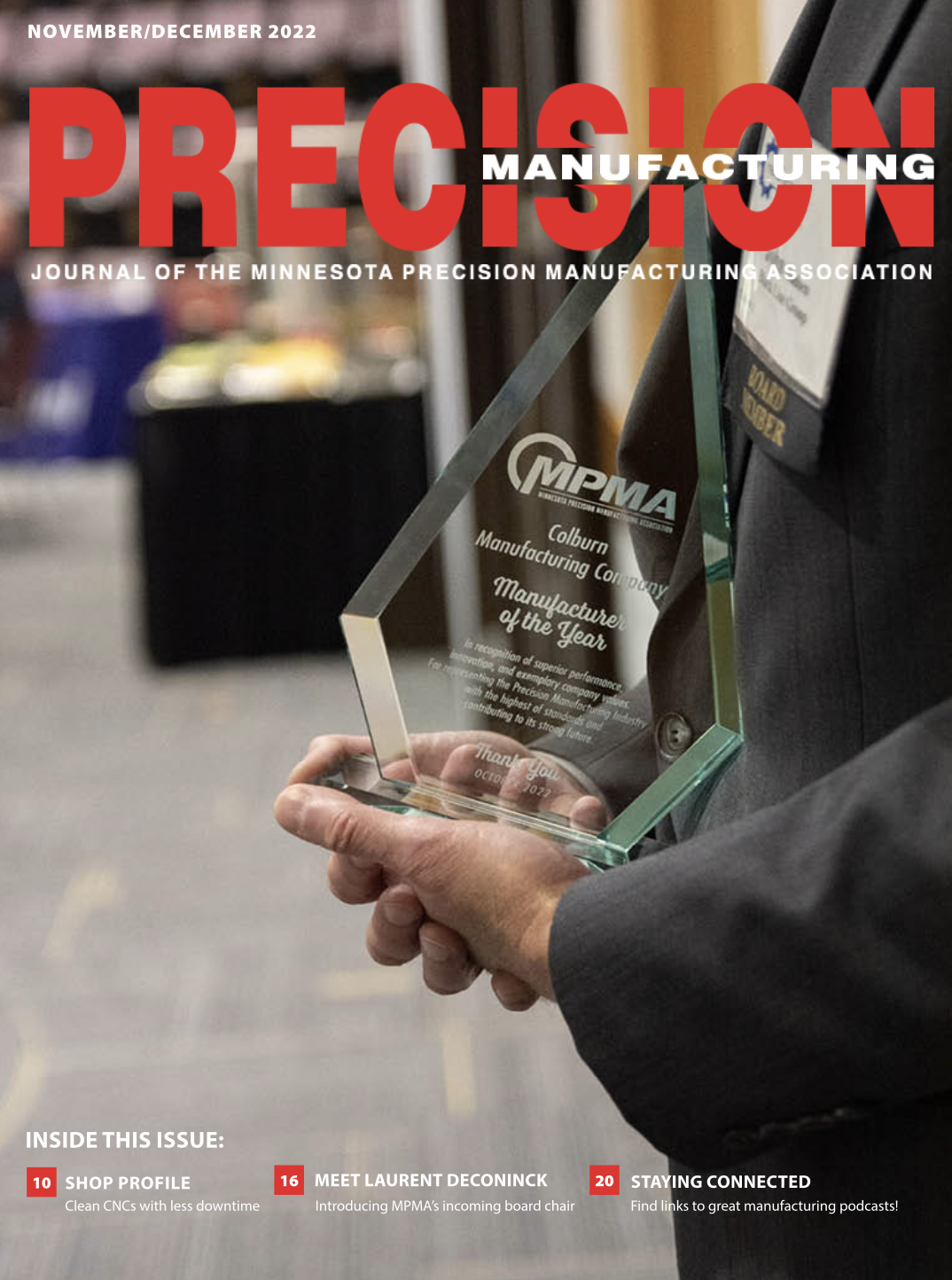 Staying Connected to the Manufacturing Community Online
Staying Connected to the Manufacturing Community Online (Pages 20-21)
by Tobias Flood
It can be challenging to stay connected to the world of manufacturing outside the four walls of your workplace. After all, manufacturing is not a topic that often comes up naturally while in line at the coffee shop or at the bar on a Friday night. In fact, for those who have a passion for manufacturing, it can feel isolating or lonely. Here is a list of resources to help you stay connected, stay excited about manufacturing and continue learning.
PODCASTS
Not every job allows employees to listen to podcasts, but for many tasks in manufacturing they are perfect. You can listen anytime and on demand. These longer form discussions and interviews allow for easy listening and don't demand 100% attention. Buried in this longer form content you'll find some great information and learn the best machining tricks. These are just a few to check out:
The Business of Machining
This podcast is best described as a conversation between two friends about the challenges of running and growing product-based machine shops. John Saunders and John Grimsmo's weekly conversations range from technical talk about probing routines or insert life to company culture and marketing. With over 300 already-released episodes, it's possible to hear conversations from as far back as 6 years ago and listen as the hosts' shops grow through the years.
Within Tolerance
Every installment of this podcast begins with the same opening tagline — "a podcast for machinists by a machinist." In each episode Dylan from Proteum Machining interviews a different guest from the #instamachinist (Instagram) community. He asks everyone "How did you get your start in manufacturing?" and frequently gets surprisingly wild answers. Machinist nerds will get a healthy fix of both technical talk and first hand stories about the challenges of running a small shop.
Some other recommendations: Making Chips, Machinist Therapy Hotline, The Manufacturing Happy Hour, The Precision MicroCast, Machine Shop Mastery, The Manufacturing Executive, Shop Matters, All Axes and Advanced Manufacturing Now and The Job Shop Show.
SOCIAL MEDIA
Instagram - #instamachinist
The machinist community on Instagram is huge. Of course, not everyone can
take and post pictures of the parts they make, but there's still room for conversation about tools, technology, processes, workflow and software. People are surprisingly willing to share their knowledge and experience and provide helpful ideas, critiques and advice. Just follow the #instamachinist hashtag and it won't take long to get to know people.
Titans of CNC Machining
Facebook group
Though Facebook groups might seem like a thing of the past, this group is one of the few whose quality of content and discussions has only gone up over the years. There is an abundance of young people in this group who have just started in the trade, and the success stories they share are often encouraging.
This group is also very helpful. Trying to quote a part made from an unfamiliar material? Ask the community and they will freely offer lots of information. Trying to compare machines? Find operators of each machine and ask for their thoughts.
Additional Forums
A few other online forums that may prove helpful: Practical Machinist, Fusion 360 Manufacturing Forum and Mitee Bite Community (Facebook group).
YOUTUBE
YouTube can certainly be a time-hole, but when used properly, it can be a great place to get educated and connect with people. YouTube has two big perks for manufacturers who want to stay in the loop: Shop tours and product research.
Shop Tours
How many shops have you physically been in or visited? Likely it's less than two dozen, but through tours on YouTube, that number could quickly be multiplied. Being exposed to the variety of workflows, methods of tool storage or inventory management is incredibly valuable. Practical Machinist and NYCCNC both offer several great shop tours on their channels.
Product Research
One of the best ways to research before buying something for your shop is to search YouTube for any unboxings or reviews, whether it's vises, tools or a particular toolholder. Often one can find someone with experience sharing their thoughts or comparing two brands. There are also disassembly videos where a potential buyer can get to know the inner workings of things like zero-point work holding systems. Just as valuable as watching these videos is interacting and commenting. Thoughtful questions often get thoughtful responses.
I used to find it difficult to connect with people as passionate about manufacturing as I am. Now I can say I feel surrounded by a community that I can turn to when I need help or need to bounce ideas off. I've made a lot of friends along the way. I'm young by industry standards but I can still appreciate what the internet has provided me.
The internet has created opportunities for my professional growth and great networking. I encourage you to explore the resources available, connect with the larger manufacturing community, maybe have a chuckle and learn a thing or two along the way.
Tobias Flood is the Co-Owner and Chief Creator of Metal Trade Solutions, a Winsted, MN-based metal working job shop.